Written by Wicker Paradise
Freshen up your outdoor space on a low budget by adding outdoor cushions. Remember that outdoor cushions will fade over time, due to exposure to rain and sunlight. Therefore they will need to be replaced at least every 6 months or so. Here are some tips to help you find the perfect style for your home.
Take accurate measurements before you visit the store – It is best to measure the length, width, and height of the cushions you intend to buy.
Select a design – Most chair cushions come in two styles. One style comes as a single piece, that covers the seat and the back of the chair. The second style is one that comes in two separate pieces and is fastened with ties at the back of the chair. One piece patio furniture cushions are best for structured chairs that are upright and have arms. If you have benches or arm-less chairs, it is best to choose cushions with ties.
Cushions should be made out of outdoor materials – When choosing your outdoor fabric, choose one that is weather and UV resistant.
Color and pattern – Cushions for outdoor furniture come in a variety of colors and patterns. For example, a nautical theme of navy and white stripes would look best near a pool.
Think about decorative accessories – You can add accessories to compliment your furniture by adding matching pillows and a patio umbrella. Add to your look by including a high stool with some vibrant pot plants. This will give your space a more outdoor feel.
Find your next Brown Jordan replacement cushions at Wicker Paradise, providers of the finest quality wicker furniture.
Barbeques and celebrations often take place in backyards. Many people believe that making improvements to your backyard will cost a pretty penny. Ideally it could, but if you are on a budget, consider these factors.
Painting a Picture with Plants
Plants add bonus points to your backyard. When they are well-maintained and thriving, they can turn a dull space into a lavish display. There is a downside to this, different plants require different treatment. Many homeowners place an abundant amount of exotic plants throughout the entire yard. This may make your yard look gorgeous, but the amount of time that you would need daily to maintain them wouldn't be worth it.
Simple Landscaping
Landscaping can be expensive. You can still create a quality backyard without having to renovate the entire plot of land. Use simple rock paths and lighting fixtures to illuminate your steps. Try planting a tree to provide much-needed shade on hot summer days. Research your local greenery for local plants. They require less maintenance and cost a lot less.
Fountains
Adding a small fountain can really add serenity to your backyard. It can be an escape from the bustling traffic and function as a therapeutic addition. You can find small fountains for under $200. With a low installation time, it is a great cost-efficient addition that you would want to consider.
Bio: Kuba Jewgieniew is the head of Realty ONE Group. With a vision of creating an extensive relationship between the broker and agent, he and his firm are building paths to success.
With the right mixture of color and comfort, your bedroom will come alive in the most vibrant fashion. Here are some styling ideas that will help you create a new look for your room.
Make Your Bedroom Bold
Utilizing the "hot-and-cold" feel of retro colors will definitely evoke a modern bedding feel to your bedroom. Reinforcing your color scheme through contemporary bed making means the addition of accent pillows. Create a bold, vibrant pattern throughout your bed spread, and then cool it down with your neutral-colored pillows for a harmonic, balanced look.
Find Your Style
Every bedroom should be customized to your true liking. When you retreat to your humble abode, you become royalty the second you step through that gateway you call a door. You can have a professionally-designed bedroom without the designer, or the costs. The job is already done for you in the form of a bed in a bag, which contains everything from pillow cases to sheet covers.
Don't Forget Kids
When it comes to teen bedding, do not be afraid to mix and match. Coordinate with your teenager and work with what they like. Incorporate their hobbies or their interests and pitch a design to them. It will take time for them to accept what you have to offer and there might be several routes you could take your ideas, but know that not only will you take away a memorable project, but also a bonding experience that you and your teen can look back upon for years.
Bio: Bedding Style is an online linen store that sells fashionable home goods, while providing excellent customer service.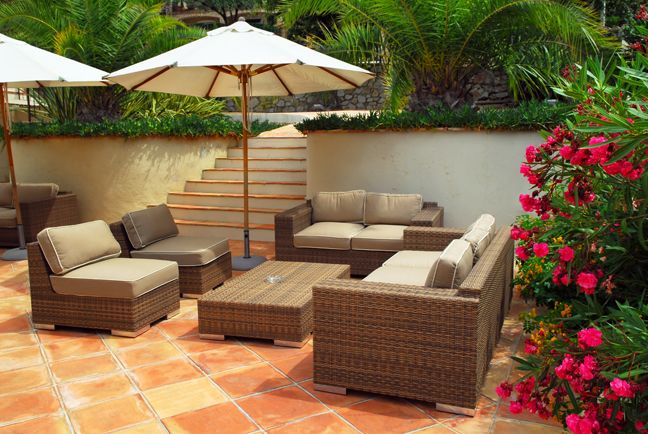 More and more often, homeowners are foregoing the expense of premade backyard décor and embarking on their own creative DIY projects. There are many benefits to investing in custom cushions, including versatility and cutting costs. Another bonus is the knowledge that you are upholstering your cushions with 100% foam from Canada, manufactured and distributed right here at home.
Whether you are planning to upholster a set of deck chairs from scratch or simply redecorate with new cushions in time for the long-awaited days of summer, no project is complete without high quality foam. It is an important investment to make that will ultimately ensure that your backyard furniture remains in good condition for years to come, regardless of the elements.
A style of foam called "Dryfast foam" is the standard for outdoor, weather-resistant cushions of all styles. Dryfast upholstery foam from Canada is designed not only for patio and deck furniture; it is also very popular for use aboard yachts and other watercrafts where moisture and precipitation is a constant issue.
Designing a brand new custom cushion for your backyard or patio furniture? Seat cushions can be cut into an endless variety of shapes, sizes, and styles, including L-shapes and T-shapes. Large pieces of foam can be cut into any requested shape necessary to fit a specific cushion.
Custom cushions stuffed with quality foam are not only aesthetically pleasing but also luxuriously comfortable—and considering how often you and your family will be using them in the summertime, both of these aspects are crucial. Your guests will be impressed with the uniqueness of the design, and comfortable while seated on soft, downy cushions.
Bio: Carlo Badalamenti is the marketing manager for The Foam Factory Inc., a global leader in custom-cut foam products shipped directly to consumers.
Potential home buyers wrestle with a common problem: when to buy. There are many in the millennial age group who want to own a home, but have not moved forward in that process for one reason or another. The question is, why? Interest rates are near all-time lows, and while they are rising they are still not on pace to eclipse rates pre-recession. There are lots of arguments for not jumping into the market, but as you will see, those arguments don't hold up when you examine the reality of the situation.
Prices are High
The most common argument is that prices are high and millenials don't have the money to buy into a home. Using FHA and special home buying programs, the reality is that first time buyers with good credit have many options. Prices are high, but they are climbing. Buyers who wait will find the properties they wanted at even higher prices when they consider themselves "ready" to buy.
The rising prices also have a flipside that works out to be a net positive for the buyer. If you purchase a home with a price that goes up, you get instant equity. That is just like having money in the bank, which you can use to make renovations to your home.
Know the Risks
Just because median prices are rising, doesn't mean your home price will rise. However, real estate has historically been one of the best ways to hold money over the long term because it appreciates well in value. If you don't see the short term gains you want, you at least have the benefit of lower rates than you would when the market turns.
Bio: Kuba Jewgieniew is a data-driven sales professional who founded Realty ONE Group, one of America's fastest growing real estate brokerages.
Flooring is important for everyone. Yoga in the den, hosting parties, kids playing inside and out, and many other activities require a suitable floor surface. Your floor should be durable as well as comfortable. Since the flooring adds to the value of your home color, style, texture, and pattern should be chosen carefully.
When choosing flooring for your home, your life style should come first. Think how you will be using the space. If you are a cook who spends hours in the kitchen standing, tile could make you uncomfortable. But if your kids make a mess in the bathroom and leave puddles of water, tile is the best. Those with pets should know that their pets bring mud into outdoor spaces when they play outside. So, concrete may be a better option for some of your outdoor spaces.
Consider the cost of the flooring. Not just the flooring material, what you put underneath is also adding to your cost. You need to budget for the removal and disposal of the existing floor and it should be part of the consideration. Some vendors charge for delivery and installation could be very expensive too. Taken all these together, your choice should match your budget.