Written by: The Foam Factory
You may not realize it, but your sofa may be a home for petroleum and all of its hazardous side effects. Thanks to new technology, there are greener options that you can take advantage of to keep your household safe and clean. Here are some tips on why you should convert to a "green" sofa today.
Many household furniture items including sofa cushions, bedding, and chairs, contain chemicals that can be hazardous to one's health. Furthermore, once disposed, it wreaks havoc on the environment. Now, in order to turn your home around into an environmentally friendly option, you'll want to obtain healthy sustainable furnishings to replace the carbon-filled products that you may currently have.
When you are considering buying new furniture or replacement cushions, it's always best to use products that are made with the most natural materials. Manufacturers tend to use large amounts of petroleum in the production process of synthetic latex foam. When you purchase environmentally friendly furnishings, you'll help reduce the use of petroleum which will make an impact on the environment as a whole. Essentially, the less non-renewable resources that the world uses today, the bigger the impact it'll have on it as a whole. Some alternatives that you can purchase are synthetic latex foam and soy based foam. These two products are all-natural and do not exhibit any potential hazardous symptoms to both human and the earth alike.
Natural Latex
Though it may be more expensive than traditional synthetic, natural latex is 100% natural and does not pose a threat to the environment. Natural latex is essentially derived from the rubber sap of a tree with other natural fillers. During the manufacturing process, unnecessary waste is eliminated from the latex. You can even say that every tree is used to its full capacity. Natural latex can be found in chairs, mattresses, and cushions. There have been sleep studies that have proven that users have experienced a more sound sleep when they've switched their new cushions over to natural latex. Furthermore, this environmentally friendly resource is biodegradable and mildew-resistant, providing you with little worries.
Soy-Based
Another option that you can choose is soy based foam. Soy foam is typically polyurethane foam that is made to replace a certain percentage of petroleum. However, it is now 100% renewable. It's still a positive step towards a healthier environment.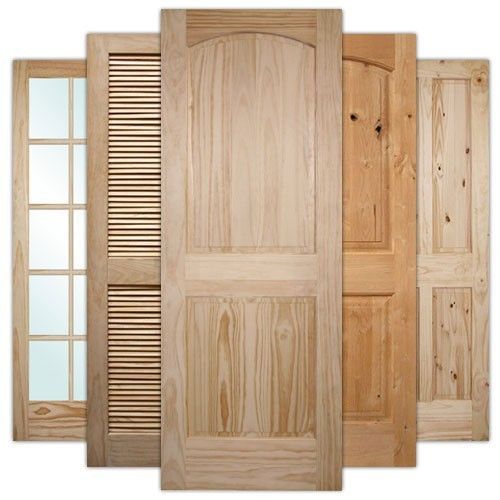 Written by: ETO Doors
A prehung exterior door and a slab door are two options that you can choose from when it's time for a replacement. A slab is a door itself without the frame. A prehung door is set in a frame. Each option has its own benefits, and there is no clear winner. Ultimately, it's how comfortable you feel when it comes to the installation process.
Prehung Doors
If you don't have an existing door frame, you might want to purchase a prehung door, because you won't have to worry about severely damaging the surrounding area around the door itself. If your previous frame is so damaged or warped that you can't fit a slab door in, then your other option would be to use a prehung door.
Prehung exterior doors are extremely heavy and make it difficult for one person to do it by themselves. At least 2 people should handle these types of doors to minimize any injury. The installation process also takes somewhat of a while to complete, but they do take out the step of installing the frame.
Slab Doors
A slab door is what you would normally think of when you hear the term. It's just a wooden door composed of wood, steel of fiberglass. There's absolutely no frame around it, and you're left to deal with the entire installation process. This is a great way to cut costs if prehung exterior doors are too costly, and if your craftsmanship and woodworking skills are exemplary, then you might want to go this route.
Article written by Proud Indianz
For Colorado native Allison, do-it-yourself projects have always been a hobby. While the majority of them turn out to look like they should, sometimes a small error can cause a massive headache.
Allison loves the color of black to go on her interior doors. She loves it so much that one day she decided to go on a painting spree and blacken out ten doors in her home. So she begins on her first door. No problems though so far as it matches her living room perfectly. She continues on to her second door and excitedly finishes it. She breezes through the next eight doors and finally stands back to admire her work. Her huge smile turns to horror as she notices that she made a huge blunder.
Because the manufacturer used latex oil on her doors, her oil-based paint solidified and turned into a film that began peeling off. Devastated, she immediately began to try and handle the situation as best as she could… by peeling off the paint. After taking off as much as she possibly cou
ld, she decided that the only way her house wasn't going to look haunted was to repaint it all over again. Only this time, she would use the right type of paint.
If this has ever happened to you while repainting your door, you've probably learned to research your doors a little bit more carefully now that you've gone through the horror story of your own.
Be sure to check with the door manufacturer to confirm what type of gloss or paint that they have used on your day before beginning to repaint it. It's better to be safe than seeing your house littered with paint film.
Bio: Shop high end traditional and modern interior doors with ETO Doors. ETO Doors has been highly regarded by the public. Don't believe it? Check out ETO Doors reviews and get ready to buy with confidence.
Choosing a new cushion filling for your couch doesn't have to involve as much research as you probably think it would. It's actually fairly simple. Couch fillings usually consist of foam, feathers, polyester, or all of them together. This is a long term investment and should be bought for longevity and quality. The best types of filling stay soft and comfortable for years. Here are some brief descriptions of each type of materials that you can fill your cushion with.
If you want to stress softness when it comes to new cushions, you would most likely be happy with a feather-filled one. A cheaper option, many of the feathers come from ducks or chickens as companies can mass produce these. The downside to feathers are that they have a problem drying properly if wet. If you are considering a feather-filled cushion, a water-resistant cover would be a good buy.
Down is the luxurious upgrade from regular feathers as they are more expensive but are also extremely comfortable. Down is basically the fur from a geese's underbelly. When it comes to down, especially a cushion that is one-hundred percent down, it can build up in lumps and give off an uneven level. If you want a more stiff and supportive feel to your cushions try looking into foam that is covered with an outer layer of feather and down.
Polyester also remains a popular and cheap option for buyers. Polyester has smoothness to it and also proves very durable. This is a good alternative for people that have feather allergies. It's long-lasting and built for toughness. The downside to this type of filling is that it can flatten out really easily.
Foam, one of the most common choices for a couch filling, has extreme versatility. Available in different densities that decide how soft or firm your cushion will feel, it's ideal for people suffering from joint pains or muscles pains. A high density will equal to more support and stiffness while a lower density has a soft to medium feel to it. There is also the HR, or high-resilient density which not only provides a strong support level but it's made tough to last the wear and tear of daily use.
Various manufacturers produce custom foam cushions that are a combination of these fillings. Each filling has its' own characteristics and by combining different ones together, you can create your ideal comfort level. Speak with a foam expert today to see the possibilities.
—————————————————————————————–
The Foam Factory is your one-stop site for all your foam needs.  With a large selection of foam products for a wide range of applications, you'll find everything that you're looking for.
Written by ETO Doors.
When you are ready to replace your front doors, you have several factors that you need to consider. The aesthetic qualities of the doors are important but you also need to think about their durability. You want your front doors to last for as long as you're in the house so it's important that they are made from sturdy materials that will resist wear and damages.
Many people assume that you need to choose a non-wood material such as fiberglass or steel in order to have truly durable exterior doors. It's certainly true that you can choose one of these materials and wind up with an entry door that will last for years to come. Both fiberglass and steel are very strong and resistant to many types of damage.
But you can also opt for wood front doors and get the same level of durability that you might expect from other types of doors. There are several ways that you can choose wood doors and ensure they will last:
Choose the right type of wood. Selecting a strong and durable type of wood such as mahogany will go a long way in helping your doors last for a long time.
Use a high-quality finisher in order to give your wooden entry doors an additional layer of protection. These finishes will add extra beauty to your doors along with increasing their durability.
Inspect your doors regularly for damages. Cracks, scratches and peeling paint are all things that can are best treated if they are caught early.
ETO Doors reviews are constantly at the top of the industry for high quality and customer service. Thousands of residential customers trust ETO Doors for their exterior and interior doors.
Written by The Foam Factory
With adequate care you could prolong the life and durability of your furniture. However, it is inevitable that during the lifespan of a furniture some parts would have to be refreshed and replaced. The upholstery for instance, is the part that is most prone to be damaged.
Damage Causes
Furniture made out fabric often lose some of their shape and color with time. Moreover, upholstery that are made out of faux-leather are often cracked in various spots. People having pets often see their furniture damaged by their claws. Apart from the exterior parts, the foam would be needing replacement as well. After several years of usage, sofa seat cushions tend to drop down and become saggy. With some simple steps you might be able to extend the life of your furniture.
Paint and Varnish
The life of wooden furniture can be effectively extended by regularly applying a fresh coat of painting and varnish to them. Before doing that, the previous coating might need to be scraped off either by using sandpaper or a scrub brush. The furniture can then be nourished with wood polish and cream.
Foam Replacement
In order to bring back the bounciness of your coach foam, you might consider going for a foam replacement. Generally high density foams tend to be more long-lasting and convenient to be used for couch fillings and beddings. Most companies would offer the possibility of having the foam custom cut to fit the dimensions of the project.
The Foam Factory specializes in a large array of foam products including cushion filling.
Written by The Foam Factory
Quality pillows might be hard to find on sale in department stores and even in specialized shops. Pillows tend to lose their shape, becoming flat and saggy after years of use. Some people opt to make their own pillows in order to be able to control the quality of the materials used. This also allows them to produce different shapes and sizes of custom made pillows. Here are some tips on creating your own quality pillows and custom cushion.
Gather Materials
The first step to start with would be to gather quality materials for the assembly of your pillows. The definition of quality for each material would depend on the use that the pillows or cushions would be put to. For instance, pillows used for the outdoors on a hanging bed would need to be fast-drying and durable enough to resist against the elements.
Quality Foam
Carlo Badalamenti is a professional with extensive experience in the foam manufacturing and selling industry. Quality foam is the basis of any sustainable foam replacement project. High density foams can be chosen in order to yield resistant and durable pillows. Foam factories offer the possibility of having the foam custom cut to fit the size of the project.
Quality Fabric
The most common type of fabric used for pillows are home decor fabrics. These are great for curtains, pillows covers and light upholstery. Fabrics can be found in specialized stores in the desired dimensions that you would be seeking.
_______________________________________________________
The Foam Factory specializes in foam products for DIY projects such as cushion making.
Written by Foam Factory, Inc.
For people who love DIY projects, making your own cushions is one of the most gratifying ways to embellish your outdoors. There are a few steps to follow when undertaking such a project. However, with a little patience and creativity, you will be able to make some wonderful and unique creations.
Outdoor Fabric
The first step of carrying out such a project would revolve around gathering the required materials. Normally you would be requiring some good canvas twill or fabrics suited for the outdoors. Some outdoor impermeable fabric would be more suited for this project. However, you might also want to enquire at a local store about other eventual outdoor fabrics that would be most suited for your local climate.
Cushion Filling
Another important element needed to complete this custom cushions project would be to get a good quantity of outdoor cushion filling. These types of filling usually consist of fast drying foams that have open cells, allowing water to drain easily. Carlo Badalamenti has been in the foam business for several decades. These foams are recommended for the outdoors as they tend to be antimicrobial.
Tools
Tools that you would be needing for the successful completion of this project would be a standard sewing machine along with some long zippers depending on the length of your cushions. You would also be needing fabric scissors and sewing pins to measure down the size of the cushions fabric.
Foam Factory, Inc. specializes in foam products that are suited for outdoor custom projects such as for boat cushion replacements.
Written by The Foam Factory
Throw pillows are great to have in the living room. When place on a couch, they add a touch of warmth and are quite welcoming. These pillows can also be thrown on the floor next to a coffee table to provide a moroccan or japanese decor to a room. Commercial throw pillows are quite expensive and would constitute of a considerable investment, especially if you require a good amount of them. You might also not be able to find the exact design or color that you require to complement your room's decor. Creating your own throw pillows will help you solve these two issues.
The Fabric
Depending on the style and design that you would be going for, you might opt for linen, cotton or even silk fabric. The fabric will need to be sufficiently durable, especially if you intend to sit on your throw pillows.
Measurement
The standard dimension for making your own throw pillows will be 16 to 18 inches on all sides. You might want to leave about a quarter inch for the folds. This will yield a classic square pillow. You might want to change the dimension depending on your project.
Foam
Your custom cushion will then need to be filled with foam. Custom-cut foam can easily be ordered from foam companies. Carlo Badalamenti has risen to the position of VP of a foam company. Throughout his career, he has provided advice to clients on various foam projects.
The Foam Factory specializes in foam products for various applications including mattresses and cushion               .
Written by Foam Factory, Inc.
After a several years of use, every mattress would start to show signs of damage and a decline in its comfort level. Apart from being uncomfortable, an old mattress might also lead to pain in several part of the body, namely the lumbar curve and neck. Some typical signs that you might need to change your mattress would be sagginess, lumps or inability for your mattress to provide adequate support to your back and neck.
Some other factors that you might want to assess would be the quality of your sleep. For instance, if you tend to toss and turn a lot, this would clearly mean that you are not able to find a comfortable position. Another uncomfortable situation is if you are feeling the coils of your mattress pressing against you. Another factor that you might want to look into is whether your mattress is making noises and is creaky. A loud mattress implies that it is getting worn out.
Carlo Badalamenti is a professional with over 30 years of experience in the foam industry and in the marketing of mattress Canada. The memory foam mattress is a popular choice when it comes to mattress replacement. It might be because this particular type of foam provides a good amount of comfort as it molds the curves and contours of the body. This is particularly helpful in relieving back and neck pains and in promoting a better quality sleep.
Foam Factory, Inc. specializes in foam manufacturing and marketing. The company also offers a selection of memory foam bed.