Each seasonal change brings new set of challenges to home owners. Summer is no different. Getting ready for summer requires some planning and starting early to get ahead.
Do a tune-up of your air conditioning system: Best time to do a check-up of the air conditioning system is late spring. Having annual system check-up can add years to your home air conditioning system and save money in the long run. Some estimates that it can save 15 percent each month on your electrical bill. A tune-up could cost $70 to $100. Think of it as maintaining your automobile that can deliver years of trouble free service. A typical check-up include review of functionality of the unit, cleaning of the condenser coil, and any debris cleaning in and around unit. You also need to change air filters twice a year in summer and fall.
Check doors and windows for leaks and make necessary repairs: Seasonal changes require proofing of windows and doors to prevent heating or cooling leaks. Do a visual inspection of inside and outside of doors and windows. Caulking failures creates gaps causing leaks. Some people do smoke tests to find leaks. But the best way is to get help from a professional.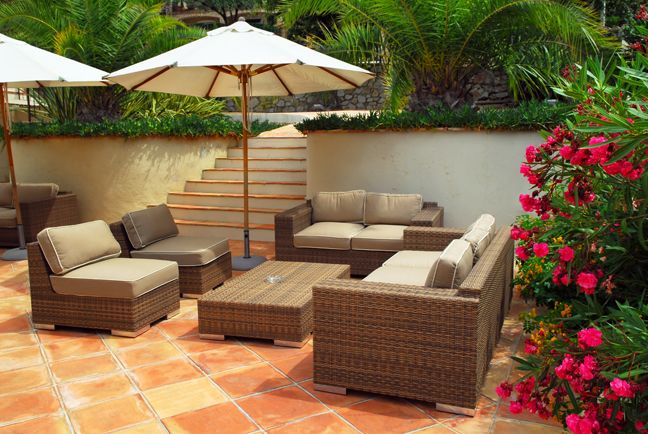 More and more often, homeowners are foregoing the expense of premade backyard décor and embarking on their own creative DIY projects. There are many benefits to investing in custom cushions, including versatility and cutting costs. Another bonus is the knowledge that you are upholstering your cushions with 100% foam from Canada, manufactured and distributed right here at home.
Whether you are planning to upholster a set of deck chairs from scratch or simply redecorate with new cushions in time for the long-awaited days of summer, no project is complete without high quality foam. It is an important investment to make that will ultimately ensure that your backyard furniture remains in good condition for years to come, regardless of the elements.
A style of foam called "Dryfast foam" is the standard for outdoor, weather-resistant cushions of all styles. Dryfast upholstery foam from Canada is designed not only for patio and deck furniture; it is also very popular for use aboard yachts and other watercrafts where moisture and precipitation is a constant issue.
Designing a brand new custom cushion for your backyard or patio furniture? Seat cushions can be cut into an endless variety of shapes, sizes, and styles, including L-shapes and T-shapes. Large pieces of foam can be cut into any requested shape necessary to fit a specific cushion.
Custom cushions stuffed with quality foam are not only aesthetically pleasing but also luxuriously comfortable—and considering how often you and your family will be using them in the summertime, both of these aspects are crucial. Your guests will be impressed with the uniqueness of the design, and comfortable while seated on soft, downy cushions.
Bio: Carlo Badalamenti is the marketing manager for The Foam Factory Inc., a global leader in custom-cut foam products shipped directly to consumers.
Written by Farm Supply Store
Training a new dog to not cross a boundary or a garden fence is much easier when using an electric dog fence. They are very effective and your dog can be trained in as little as 48 hours. As a deterrent to your beloved pet accidently running onto the road and getting injured, it is well worth the investment. The following tips will help you save some time, money and hassle when considering an electric fence for your dog.
Before you go out and buy a system, consult your vet. Depending on the breed, type or medical condition of your dog, an electric fence might not actually be appropriate. You do not want to cause any harm to your pet. In addition if it were ineffective for your type of dog then you would have wasted a lot of money.
Mark out the area you want covered and measure the perimeter. This makes it easier when buying and self-installation. For professional installations it saves a lot of time and money as installation time is generally charged by the hour. It also makes other choices like whether to use aluminum wire much easier.
Once you have bought and it is partially setup, test the wire before you bury it. You want to make sure the system works properly before putting it underground and then having to dig it up because it doesn't work.
Farm Supply Store in store specializing in quality fencing products such as a gallagher Fence.
Potential home buyers wrestle with a common problem: when to buy. There are many in the millennial age group who want to own a home, but have not moved forward in that process for one reason or another. The question is, why? Interest rates are near all-time lows, and while they are rising they are still not on pace to eclipse rates pre-recession. There are lots of arguments for not jumping into the market, but as you will see, those arguments don't hold up when you examine the reality of the situation.
Prices are High
The most common argument is that prices are high and millenials don't have the money to buy into a home. Using FHA and special home buying programs, the reality is that first time buyers with good credit have many options. Prices are high, but they are climbing. Buyers who wait will find the properties they wanted at even higher prices when they consider themselves "ready" to buy.
The rising prices also have a flipside that works out to be a net positive for the buyer. If you purchase a home with a price that goes up, you get instant equity. That is just like having money in the bank, which you can use to make renovations to your home.
Know the Risks
Just because median prices are rising, doesn't mean your home price will rise. However, real estate has historically been one of the best ways to hold money over the long term because it appreciates well in value. If you don't see the short term gains you want, you at least have the benefit of lower rates than you would when the market turns.
Bio: Kuba Jewgieniew is a data-driven sales professional who founded Realty ONE Group, one of America's fastest growing real estate brokerages.
Restraint of trade was used throughout the 1700s as a means to enforce restrictions on the practice of businesses in order to protect intellectual property. To understand how restraint of trade came about, and some of the implications of this important legislation, one must take a trip through time to 1711.
A baker from St. Andrew Holborn, named Reynolds, decided to rent his business out to another man named Mitchel for a length of five years. The two men agreed to a small bond, which would become void if Reynold continued baking in St. Andrew Holborn.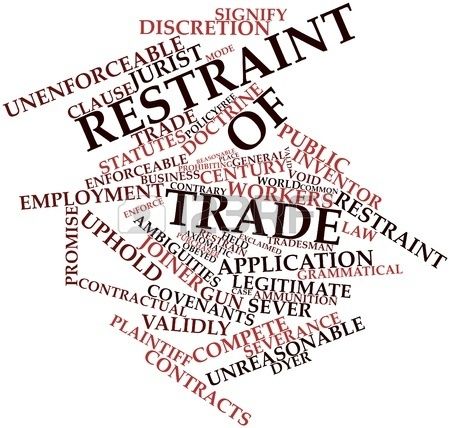 Reynold, understanding the terms of the bond to mean that he could not practice his trade in St. Andrew Holborn, took his baking to another town and attempted to prosper. Mitchel, the man who had rented Reynold's business, decided to sue on the grounds that the bond had been voided.
The court ruled in favor of Mitchel, and here is why. Reynold had more to his name than just the brick and mortar store. His name, his reputation and the customers that came because of those qualities would presumably follow him to whichever town he chose to set up shop. Because the basis of the transaction was for Mitchel to rent a profitable business and build it up, moving to the next town over defeated his premise.
The court decided this restraint of trade was useful, because Reynolds was the product. Not the business, even though the business was the basis for the transaction. What Mitchel rented was not so much the business, but Reynold refusing to participate in the market.